The latest figures from "Santé Publique France" re the 7th COVID-19 wave in France show a huge increase in the incidence rate in all age groups and whole France territory – metropolitan France and overseas territories.
However, the 0-9 Yo age group is the most affected with +65% of children infected e.g. 305 per 100,000 inhabitants in week 25 (from 20th to 26th of June 2022).From many sources we acknowledge already that this number will steadily increase in the upcoming weeks.
As a result, the number of children to be tested is also increasing, and nasopharyngeal PCR tests are not necessarily suitable for this population. Therefore, some manufacturers of lab supplies have launched solutions that are more playful for the patient but also safer for the sampler.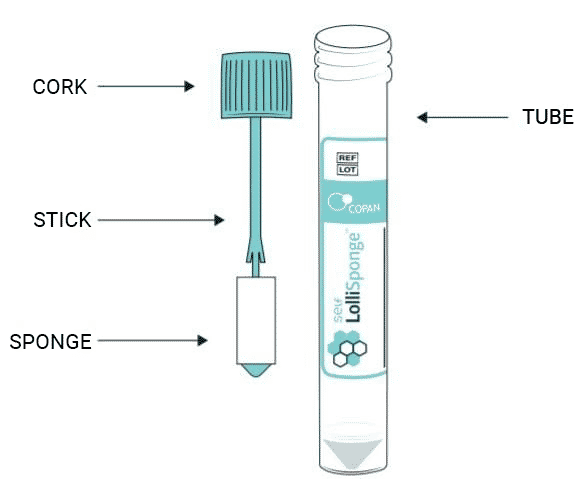 Which test for SARS-CoV-2 solution to choose for children?
LolliSponge™ is a pretty new solution that has recently emerged and that makes the whole sampling process overall much easier both for the nurse and utterly painless for the young patient.
To perform the saliva sample, the procedure is straightforward:
The child must accumulate as much saliva as possible for 10 seconds
The LolliSponge™ device is positioned in the mouth for 60 seconds
The tip is inserted into the tube to be sent to perform the diagnosis
Note that the tube is compatible with all centrifuges. No need to comply with a specific instrumental process!
What are the LolliSponge™ benefits ?
Efficient saliva collection
The LolliSponge™ device is ultra-sensitive to COVID – 19 detection, and this from infection day one.. This solution is therefore just as efficient as nasopharyngeal swabs.
Painless sampling device
The LolliSponge™ solution consists of keeping a terry stick in the mouth. Its small size avoids touching the back of the throat to ensure maximum comfort for the patient.
Secure direct debit
Saliva sampling without spitting is a real safety parameter for the sampler. Not being in contact with the patient saliva greatly limits the risk of contamination.
A fun solution to reduce sampling time
Its lemony taste appeals to children and adults. Beyond the pleasant and playful side, it allows to simulate the salivary glands to produce more saliva in a minimum of time. The duration of the sampling is then considerably reduced.