FFP masks protect your environment in te laboratory by blocking droplets emitted by the wearer's mouth and nose; they will also protect you or your employees – even by filtering the air you breathe.
Today, many models of FPP masks are available on the market but not all are equal. It may be difficult to find your way around, we help you in your choice by reviewing the different criteria to be considered when picking your FFP masks.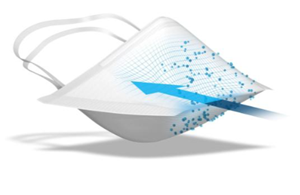 What is an FFP mask?
Le masque de protection respiratoire est un Equipement de Protection Individuelle de catégorie III (EPI) qui couvre la bouche, le nez et le menton. Aussi appelés masques FFP pour Filtering Face Piece, ils protègent le porteur contre l'inhalation de gouttelettes et de particules en suspension dans l'air, vecteurs d'agents infectieux.
A respiratory protection mask is an item of category III Personal Protective Equipment (PPE) that covers the mouth, nose and chin. Also called an FFP mask for Filtering Face Piece, it protects the wearer from inhaling droplets and particles suspended in the air that carry infectious agents.
Which criteria to use in the selection of an FFP mask :
Different drivers of choice stand out when buying FFP masks :
Regulations compliance :
FFP masks must comply with EN 149:2001+A1:2099 and EU Regulation 2016/425.
There are three types of FFP masks classified according to their effectiveness:
FFP1: minimum filtration of 80%
FFP2: minimum filtration of 94%
FFP3: minimum filtration of 99%
Choose a design shape that is suitable for each wearer's face
INRS recently published a study evaluating the fit of different models of FFP2 masks (duck beak, fold or shell). It appears from this research that for the same mask type, the results vary according to the size of the user's face.
It is therefore important to be able to test the mask before use and choose a one best fitting your face morphology .
Some manufacturers now offer laboratories a FFP2 mask type that is available in 3 sizes to fit all types of faces correctly.
Think about comfort and choose the right elastic type

There are different types of bounds for FFP masks: by elastics passing behind the ears or elastics passing behind the head. According to the research completed by the INRS, "regardless of the shape of the face and the model chosen, less than 1% of the fit tests carried out were successful" with masks of the KN 95 shape (elastic behind the ears and vertical fold). The INRS therefore does not recommend the use of this type of mask as a respiratory protection device.
Mask raw material mix : choose the right one !
It is important to favor masks made of a lightweigth and smooth material to wear a comfortable mask and avoid removing it too often or scratching your face.
For example, some FFP masks are a combination of layers made up of Spunbond and Meltblown and do not contain latex to ensure maximum protection and unbeatable comfort.
This selection of raw materials in the manufacture of masks is also a guarantee for good breathability.
The choice of the composition of elastics is also important, for example, knitted and ultrasonically welded elastics allow a better fit and resistance.