Single-use gloves are the most widely used personal protective equipment in the medical, laboratory, research and industrial sectors. Many brands and designs are available on the market, but what about the regulations and standards to be respected for the best use of single-use gloves?
Two regulations are applicable for protective gloves: the Medical Devices (MD) Regulation (EU) 2017/745 and the Personal Protective Equipment (PPE) Regulation (EU) 2016/425.
It is the use of the gloves and the type of protection that will determine the regulations to be respected.
Three cases may arise :
Protect the user : gloves will need to comply with the PPE regulation 2016/425.
Protect the patient : gloves must comply with regulation 2017/45 on MD.
Protect the user and the patient : gloves must comply with both regulations.
To understand these two regulations and the differences between them and to help you select your gloves, let's review the different standards applied to single-use gloves according to the regulation.
Regulation (EU) 2017/745 on medical devices
European standard EN 455 for single-use medical gloves (MD)
This series of standards is applicable to medical gloves; these gloves are intended to act as a barrier between the patient and the user against cross-contamination.
The EN 455 series of standards has 4 parts :
EN 455-1/2020 – Requirements and tests for hole detection
The gloves must pass a waterproof test for micro-holes. This test is performed on a statistical sample (taken in accordance with ISO 2859-1). The gloves must achieve an acceptable quality level (AQL) of 1.5, i.e. a maximum failure level of 1.5%.
This test therefore reassures the wearer that the gloves are effective against exposure to chemicals or biological contaminants.
EN 455-2:2015 – Requirements and tests on physical properties
This part of the standard allows the control of dimensions and breaking strength before and after accelerated aging. We will therefore find in this part the requirements and test methods relating to the physical properties of single-use medical gloves.
Below are the levels of resistance to tearing in Newtons according to the type of glove.

EN 455-3/2015 – Requirements and test on biological evaluation
This standard ensures that the user is not exposed to harmful chemicals when wearing the gloves and thus assesses the biocompatibility and biological safety of medical gloves.
This will require an assessment of the following factors :
The amount of powder
Chemical compounds used in the manufacturing process (gas pedals, antioxidants, biocides…)
Extractable proteins (for latex gloves) for which sensitive individuals may have allergic skin reactions
EN 455-4:2009 – Determination of shelf life
The expiration date is determined by this standard, after this date the physical properties of the glove can no longer be guaranteed during its use. The maximum life span of a medical glove is 5 years.
Regulation (EU) 2016/425 on personal protective equipment ( including single-use gloves)
Categories
Products subject to Regulation 2016/425 are classified into 3 categories based on the degree of risk :
CATEGORY I : protects against minor hazards (including mechanical, physical or chemical injuries) such as :

Superficial mechanical aggression
Contact with mild cleaning products or prolonged contact with water
Contact with hot surfaces not exceeding 50°C
Eye injury due to sunlight exposure (other than those occurring during sun viewing)
Weather conditions that are not extreme

CATEGORY II : Protects against major hazards also known as reversible hazards. Category II includes risks other than those listed in categories I and III.
CATEGORY III : protects against irreversible (microbiological, chemical…) or fatal risks related, for example, to :

substances and mixtures hazardous to health ;
oxygen-deficient atmospheres
harmful biological agents
ionizing radiation
hot environments whose effects are comparable to those of an air temperature of 100°C or more
cold environments whose effects are comparable to those of an air temperature lower than or equal to – 50 °C
electrical shocks and live working
EN ISO 21420:2020
The EN ISO 21420:2020 standard has replaced the EN 420 standard and deals with general requirements and test methods for all personal protective gloves.
It includes the following points :
ergonomics and construction of the glove
resistance of the constituent materials to water penetration
safety
comfort and efficiency
marking
Standard EN ISO 374-1:2016 – Protection against chemicals
This standard determines the penetration resistance of gloves protecting against micro-organisms.
There a three test methods to be performed :
Permeation test according to EN 16523-1+A1:2018
Penetration test according to ISO 374-2:2019
Degradation test according to EN ISO 374-4:2019
Permeation and degradation tests must be performed in order to claim protection against a chemical. The results must be reported in the information sheet.
Chemical permeation: EN 16523-1+A1:2018
This standard evaluates the passage of the chemical substance through the glove, the evaluation is determined by the time of passage (in minutes) of the chemical substance through the glove.
The level of performance will determine the type of protection (A, B or C).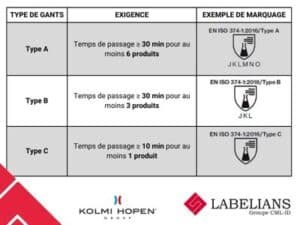 Standard EN ISO 374-5:2016 – Protection of single-use gloves against micro-organisms
The gloves must pass the waterproof test of this standard.
It is also possible to claim protection against viruses if the glove passes the EN ISO 16604:2004 test.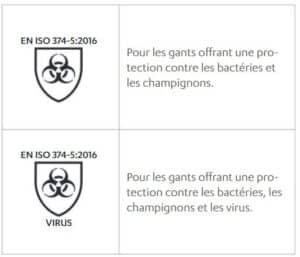 Subject to numerous standards and regulations depending on their use, single-use gloves are an essential piece of equipment for protecting your hands: they protect the patient, the user or both. For complete protection, consider combining them with other single-use equipment such as protective masks, overshoes, gowns or gowns.